Making a Difference
We are humbled by individuals and organizations within our communities that work to support one another. At ELS, we believe in celebrating community – it's at the core of what we do. While we know the sense of community is strong at our properties, it's inspiring to see it in action and witness residents and organizations going above and beyond to take care of each other.
From growing fresh food and teaching children how to cook to organizing a volunteer-based community watch team and distributing food donations from grocery stores and plenty more organizations that work to bring our communities even closer together. These acts of kindness enhance the bonds our customers have with each other and to our communities. We are proud to continue fostering these efforts in our communities.
In the second year of our initiative to support these efforts aimed at Making a Difference in Our Communities, we have identified good works, big and small, happening in our communities today that we are supporting with a charitable donation. Some are resident-led, some coordinated by homeowner associations, others are non-profit agencies that assist our residents, but all are Making a Difference in Our Communities.
This fantastic community spirit is fostered by the leadership of our on-site team members who embody our values of enthusiasm, empathy, communication and ownership.
Following are just a few examples of the wonderful efforts that are Making a Difference in Our Communities that we are proud to support.
Beacon Terrace
A resident of Beacon Terrace (Lakeland, FL) volunteers his time to serve fellow residents in his community. Free of charge, the resident assists others with their property, doing yard work, tree and bush trimming, among other tasks.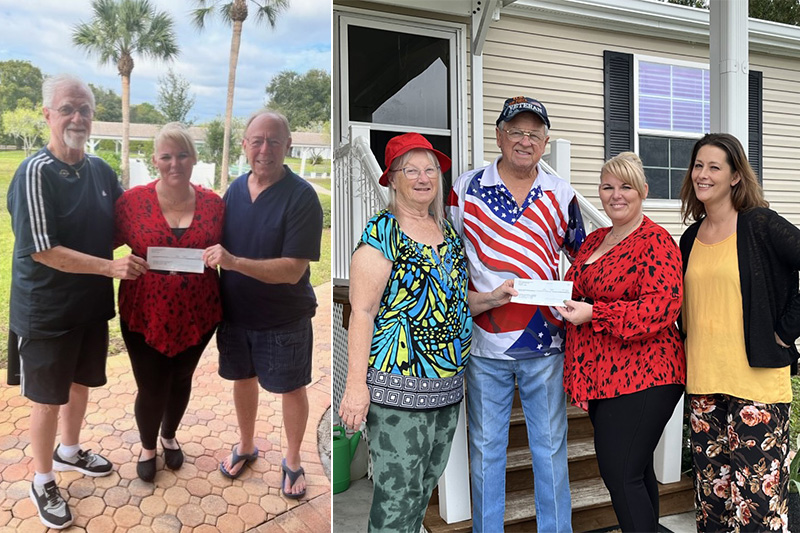 Country Place
A resident group called the Veterans of Country Place Village (New Port Richey, FL) gives back to those inside and out of their community. Supporting a local food bank donating food, clothing, and transportation, their efforts work to help homeless veterans find and keep jobs. Another local church that finds housing for homeless veterans is also supported by the Veterans of Country Place Village. They donate Christmas gifts to be distributed to local children in need, and volunteer for one of the veteran nursing homes nearby.
Two residents at Country Place volunteer at another nearby food bank, where they donate monthly. Every week, these two drive around the community, distributing food and supplies to other residents in need. Three more residents have joined the couple in serving the residents of their community who are in need.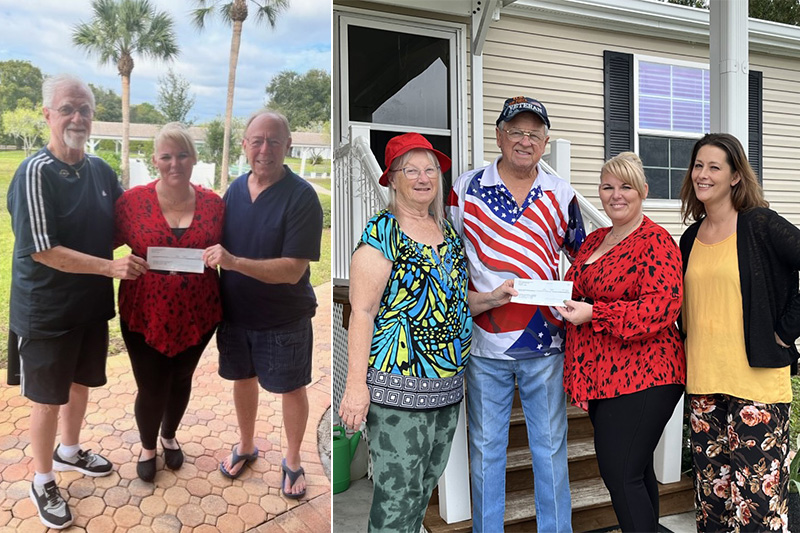 Everglades Lakes
An organization named Hope Outreach works to aid several residents of Everglades Lakes (Davie, FL). Through donations, the organization is able to help many pay for expenses including utilities, food, and more.
Falcon Wood Village
Food for Lane County (aka Meals on Wheels) is an organization assisting residents of Falcon Wood Village (Eugene, OR) that are in need. Meals on Wheels delivers healthy meals prepared in a local kitchen to residents, supporting the Falcon Wood community.
Indian Lakes
An annual site holder at Indian Lakes RV Campground (Batesville, IN) plans events at the campground, such as parades, to bring the community together. He also organizes multiple fundraisers to raise money for Care Camps. Care Camps is an organization that believes healing a child with cancer is not just done inside a hospital. The group works to send kids with cancer to medically supervised camps, where they can heal emotionally as they build friendships and have fun exploring nature. The efforts of the Indian Lakes camper has raised over $10,000 just this year through his organized fundraisers.
Lake George Escape
Lake George Escape (Lake George, NY) has partnered with the Cornell Cooperative Extension of Warren County to host nature-centered courses as activities for guests of the resort to partake in. These courses include gardening, foraging, forestry, campfire cooking, and bike rodeos.
The Warrensburgh Beautification Corporation works to preserve and beautify their surrounding community. This group works to define and develop the visual qualities of the Warrensburgh area, expanding pedestrian access to the recreational, commercial, and residential areas. They protect surrounding natural resources such as the Schroon and Hudson Rivers, as well as public lands on the Hackensack Mountain and its surrounding area. Expanding active and passive recreation locations, Warrensburgh Beautification promotes appreciation, awareness, and preservation of the area's historically significant architectural resources.
Lake Village
A Lake Village resident (Nokomis, FL) has dedicated countless hours of volunteering to her community. Weekly, the resident organizes recycled occasion cards, both new and previously used. She organizes the cards in order to make them usable to give all over again. Whether for birthdays, holidays, or other occasions, the cards are offered to fellow residents for free or of very low cost. Thanks to her dedication, Lake Village residents can easily obtain a card right inside the Lake Village clubhouse, where hundreds of options are available to choose from.
Lakewood RV Resort
For over three decades, residents of Lakewood RV Resort (Harlingen, TX) have joined together during the holiday season to help local families in need, where public events are hosted at the resort to fundraise. Proceeds provide a full Christmas experience to fourteen families from a local elementary school. A Christmas celebration is held on the property for residents and the receiving families to enjoy, with food, gifts, and holiday cheer.
Mays Landing
Last season at Mays Landing (Mays Landing, NJ) during a temporary closure of the campground's pool, the Dorothy Volunteer Fire Department came to the rescue to bring some fun for all the kids. The department leveraged the opportunity as a community building event, bringing their fire trucks on the property to provide hose spraying fun for all. The fire department is completely volunteer, and serves as the campground's local fire department.
Meadowbrook
A community food pantry organized by one Meadowbrook (Santee, CA) resident has brought great help to locals in need. Other residents are invited to donate goods or volunteer their time, bringing the community together as they give back.
Another resident at Meadowbrook has taken on the task of watching over the community. She volunteers almost daily, running a resident neighborhood watch where she and a small team patrol the community at night to ensure all is quiet. She also volunteers her time to assist the food pantry and runs events for community residents such as weekly bingo. As the first person fellow residents call on for assistance, she goes out of her way to take care of her neighbors, driving them to the bank, doctor appointments, the grocery store, and more.
Pine Lakes
A charitable group of residents at Pine Lakes Country Club (North Fort Myers, FL) have come together to lend a hand to the community and its residents where needed. The group is called the Pine Lakes Men's Club, and they are a great help to resident in the community by loaning and delivering medical equipment, delivering meals, assisting with home improvements and beautification efforts. Their efforts go a long way in the community, certainly noticed by the staff and residents of Pine Lakes.
Sedona Shadows
A Sedona Shadows (Sedona, AZ) resident dedicates her time to coordinate and run the community food pantry. Residents are invited to donate supplies and food, or take supplies needed for themselves.
The Meadows
Multiple residents at The Meadows (Tempe, AZ) have taken on the role of bettering their community. One resident has formed a garden club, where residents have planted a community garden for all to enjoy on the property. Another resident has coordinated efforts to run The Meadows Arizona Food Pantry, an on-site pantry helping fellow residents.
Altered Tails is a local veterinarian working with The Meadows community to control the feral cat population. The clinic spays and neuters feral cats at a low cost, promoting a safer and more controlled cat population.
Three Flags RV Campground
Three Flags RV Campground (Wildwood, FL) is proud to support the Wildwood Soup Kitchen, an organization working to help feed their local community. Wildwood Soup Kitchen serves around 400 people daily, delivering healthy, nutritious meals to all who request it.
Verde Valley
Providing support to neighbors in the resort, an annual site holder at Verde Valley (Cottonwood, AZ) goes out of his way to lend a hand wherever it is needed. This guest helps others with various tasks including cleaning and yard work, while even repairing guests' RV's. He has been a big help to neighbors, cleaning out their sites, dealing with the trash, and assisting guests to sell items no longer wanted.
Vero Palm Estates
A new resident at Vero Palm (Vero Beach, FL) has settled in well in the community after his retirement. After just a few months as a resident, he quickly saw to the need of his neighbors. The resident has been a great help to the community, power washing homes throughout for those who cannot manage the task physically and financially.
Villas at Spanish Oaks
The Pecan Club is run by a committed resident at Villas at Spanish Oaks (Ocala, FL). This recycling club works to collect cans throughout the community from other residents to take them for recycling, The proceeds from recycling the waste is used to give back to the community, sponsoring dinners and breakfasts for residents throughout the year.
Villa Borega
A Las Vegas organization called the Just One Project works with Villa Borega (Las Vegas, NV) in efforts to assist the community's residents in multiple ways. The Just One Project runs adult education programs, regarding financial literacy, emotional health, GED courses, and more. The organization delivers prepared meals to Villa Borega residents, as well as fresh food to keep the community healthy and well-fed.
Another group from Villa Borega, coordinated by one of the residents, uses their own time and means to travel around to local pantries multiple times a week. Called the revival team, this resident group brings back food to assist neighbors in the community.
Voyager
Voyager (Tucson, AZ) residents and the Salvation Army come together to host their annual toy drive during the holiday season. Voyager residents work to raise money throughout the year, purchasing gifts for the drive with the proceeds. Distributing books, toys, and even bikes, the work of these residents and the partnering organization benefitted over 1,600 people over three days during their last toy drive.
Woodland Hills
The Senior Hub is a non-profit organization based in Colorado, serving older adults throughout many communities. Residents at Woodland Hills (Thornton, CO) are able to utilize multiple of their services, including their food pantry and meal delivery. Veterinary services are also available to residents, as well as home care and informational programming.